Drying Water Damaged Carpets in Santa Clarita
3/18/2022 (Permalink)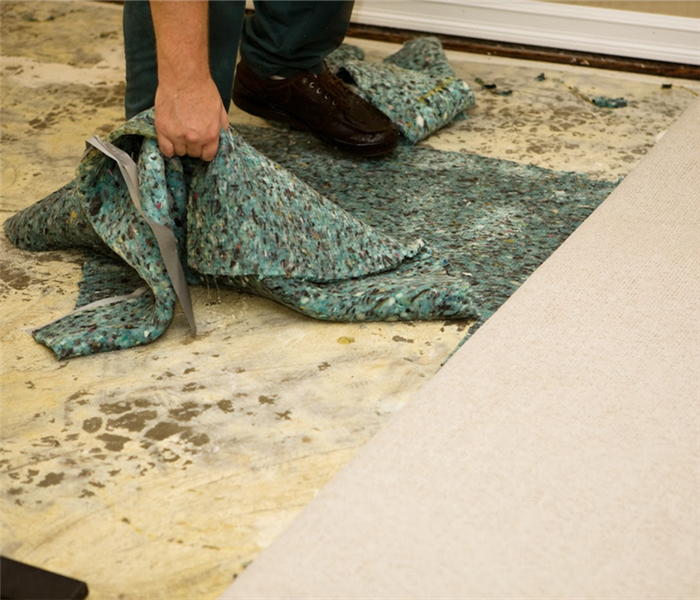 When the carpets at your business location need water restoration, it's time to call in professionals. SERVPRO arrives with equipment to help you.
SERVPRO Water Restoration Pros Restore Santa Clarita Commercial Carpet and Pad
Carpeting and other flooring surfaces are among the most heavily impacted structural materials in many water damage situations. Worse still for Santa Clarita businesses is how quickly moisture can seep through flooring and affect subfloors, potentially impairing a commercial facility's structural integrity.
SERVPRO water restoration technicians in Santa Clarita respond to commercial facility cleanup needs in as little as several hours after the initial contact. This firm's inspection, cleanup, and rebuilding processes minimize water's impact on surfaces and assets.
Remediating Water Damage to Commercial Carpeting and Pad
SERVPRO technicians can perform extraction from wet carpet with a combination of the following:
Portable or truck-mounted extractors that address various scales and locations of water migration with specialized carpet wand attachments
OSHA-approved biocide solutions sanitize and remove wastewater from the carpet to prepare it for drying
Technicians can temporarily lift and tent carpeting and pad to prepare it for drying from above and below
Additional carpet water removal tools include rover vacuums, which apply weight-based pressure to wet surfaces during extraction, and wet/dry vacuums. Hard floors can benefit from commercial squeegees and mops used in tandem with EPA-registered antimicrobials
SERVPRO techs can also inspect subfloors impacted by water and prepare them for drying, along with carpet, during air movement and dehumidification. When paired with low-grain refrigerant coil dehumidifier units, well-positioned air movers can pull excess water out of fibers and structural materials like wood and drywall. This drying strategy minimizes the risk of flooring requiring costly repairs or replacement after water damage occurs. SERVPRO can then reinstall dried carpet and pad for a seamless repair.
SERVPRO of Santa Clarita Valley can restore commercial facilities for property owners who call (661) 296-4600.