How to Recognize Leaking Pipes | SERVPRO® of Santa Clarita Valley
3/11/2020 (Permalink)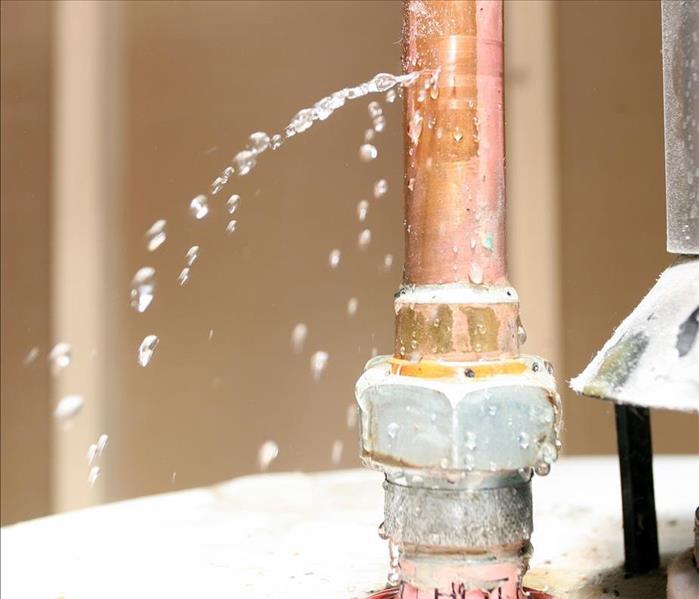 This is an example of a fairly severe leak in a pipe. While this does happen the majority of leaking pipes are closer to a drip from poor seals.
One of the most common sources of water damage is a leaking or damaged water line. This could be the result of a catastrophic failure in which a line is spewing water rapidly or a slight trickle. The upside of having a burst pipe is that you will likely notice it unless you are off the property. This clearly will require the removal of a great deal of water but is easily noticeable. On the other hand, a small leak from a pipe is much harder to recognize and can be more problematic in the sense that bacterial growth is more likely to happen here. Therefore, it is important to know how to recognize a leaking pipe and how to deal with it.
Know the Problem Areas
One of the most basic things is to recognize is where your pipes are. The most common areas for a leaking pipe are in the bathroom and kitchen. The general region one should keep an eye on is under the sink as this is out of view. The area is not often looked at and a small leak could go unnoticed for days, weeks, even months. Ensure that your pipes have no dramatic problems here or corrosion along the area. Other areas which can commonly have leaking pipes are in your basement or in crawl spaces.
Know the Warning Signs
There are several telltale signs of a leaking pipe. The most apparent is if there is standing water that keeps appearing for apparently no reason. Another sign could be damp floors or swelling and cracked flooring pieces. Yellowing or stains on nearby walls or bubbling of paint could also point to a leaking pipe. An obvious sign would be swollen or drooping drywall. If you are seeing similar things around your home, you may have a leak in your pipes.
Test the Area
If you suspect a leak in your pipes place a small container directly under the pipe and check on it later in the day and the day after. If there is any water accumulation you now know there is a leak. If the leak is severe you can shut off your water valve which is usually found in the basement or outside near your utility box.
Call a Plumber
If the source of the leak is unknown or cannot be dealt with on your own give your local plumber a call. They have the expertise and knowledge to deal with the issue safely and should be able to inspect the rest of your home or commercial property for any further issues or leaking pipes.
If You Have Water Damage
In the unfortunate scenario you have suffered from water damage in your home or commercial property give SERVPRO® of Santa Clarita Valley a call at (661) 296-4600. We have the experience, expertise, and tools necessary to mitigate whatever water damage you may have on your property.