How to Grill Safely | SERVPRO® of Santa Clarita Valley
3/27/2020 (Permalink)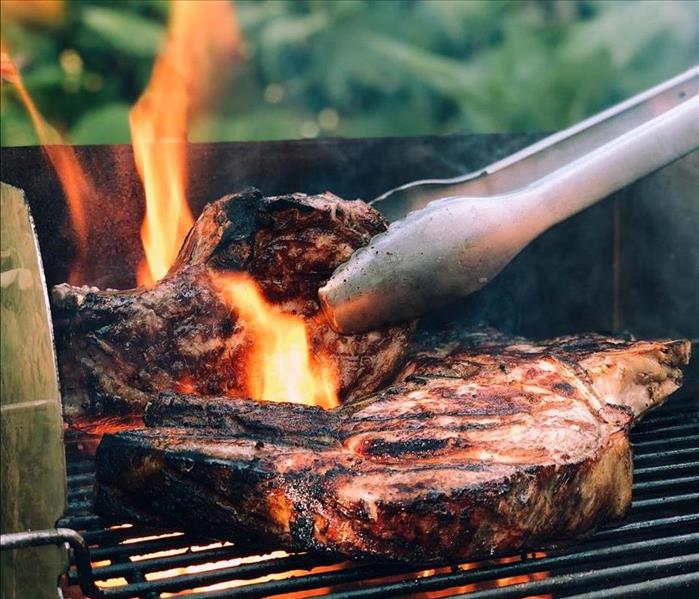 Grilling is a wonderful pastime and a tradition for many households across the United States during holidays, sporting events, and the occasional weekend barbeque. Nevertheless, many fires are started due to faulty grills, user error, or a freak accident. There are several things to keep in mind so you can safely enjoy grilling and the delicious food afterwards.
Grill outside
The most important thing to ensure is that you are grilling outside and not in a garage or somewhere that could potentially burn down easily. Grilling indoors also exposes one to carbon monoxide which is deadly and is odorless and cannot be seen. When grilling outside, the grill should be at least 10 feet away from the base of the structure which you are grilling near. This should give you enough room to deal with a flare up or piece of charcoal that flies away.
Clean Your Grill Frequently
Not only will this help you to have a better grilling experience overall, it will also prevent dangerous flare ups from accumulated grease and fat. This is one of the most important things to do as it is so easy for flames to build up and quickly overwhelm an old greasy grill and spread to things such as a deck, nearby chair, or the exterior of the home.
Know Your Grill
There are both gas and charcoal grills. Make sure you know how your grill operates and ensure that you do occasional maintenance and examine that it is functioning properly. A big concern with gas grills is whether they have any leaks which could build up pressure and cause an explosive fireball. The easiest way to test for leaks is to make a one-part soap one-part water mixture then drip it on the hose and connections and then turn on the gas. If you notice large bubbles forming, you have a gas leak and should turn off the gas and replace the hose or connection points. Additionally, you should never use the gas feature when the grill top is closed as this could cause an unnecessary rise in pressure and an unintentional fireball.
Be Prepared
Always keep a fire extinguisher nearby your grill so that if the need arises you can quickly and effectively stop a fire. If for some reason the fire cannot be contained call 911 and remove yourself and any other people from the premise.
Grill fires are quite common across the US. If you happen to experience one of these and are in need of restoration give the experts over at SERVPRO® of Santa Clarita Valley a call at (661) 296-4600.