Making Advanced Preparations for Severe Storm Safety | SERVPRO® of Santa Clarita Valley
5/22/2020 (Permalink)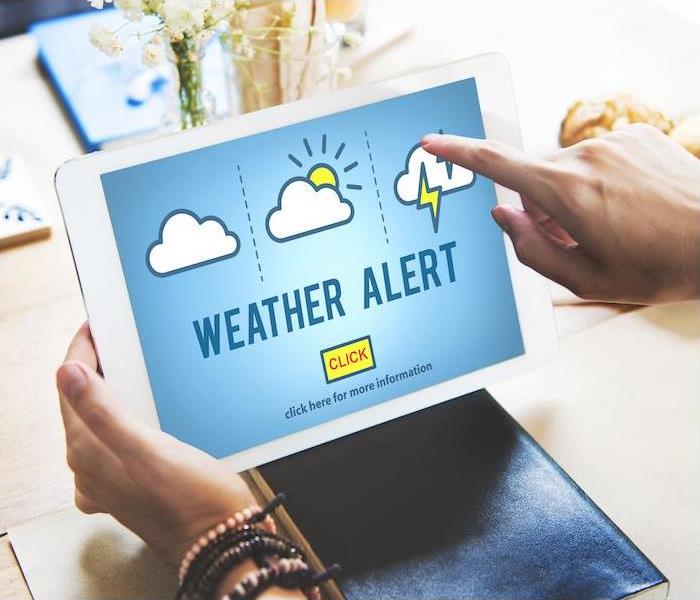 Person using a tablet for weather alerts. These are a great way to stay informed on the local and national forecast.
Thunderstorms and other severe weather events have been known to cause unprecedented damages in impacted areas. While some severe storms will pass by without incident, others will lead to wind, hail and lightning damage that can devastate an area.
For this reason, it is important to prepare ahead of time so you are never caught off guard due to a severe thunderstorm. Being aware of weather alert definitions, stocking and storing your emergency kit, and obtaining a reliable weather alert system for the home will give you peace of mind and make sure you are as safe as possible during a severe weather event.
Be Aware of Weather Alert Definitions
When local officials issue weather alerts, it is important to be aware of what they mean so you can know how to respond appropriately and stay safe. If a severe weather watch is issued for an area, that means that storms are possible but not currently happening, so standing by and staying tuned is advised. For severe weather warnings, however, a storm is currently happening or about to begin—this means to take cover and prepare to be impacted by the storm.
Stock and Store Your Emergency Kit
Having all the essentials in case of severe weather will help keep you and your family comfortable and safe while severe weather passes through. Having reliable light sources and backup batteries, shelf-stable food and fresh water is helpful for comfort, and a first-aid kit will come in handy in case an injury occurs. You should store this emergency kit in a temperature-controlled area where your family can hunker down and wait for the storm to pass, such as a basement bathroom or a hallway.
Obtain a Reliable Weather Alert System
While we typically rely on the internet and our cell phones for any pertinent updates regarding the weather, in the event of severe weather, this is not advised. Cell phones can become unreliable due to dead batteries and poor reception when electricity and cell signals are impacted by storms, so obtaining a backup method for weather alerts such as a non-electric weather radio will allow you to be certain you will stay informed.
If your home has been impacted by storm damage, we are here for you. You can contact us 24⁄7 to get a quick response to your home's damages.