Staying Healthy Despite the Smog
9/11/2020 (Permalink)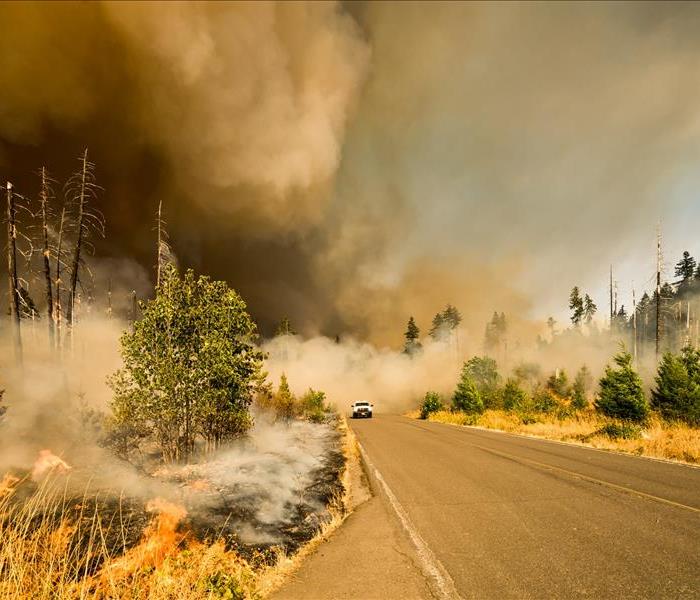 Wildfires cause a great deal of property damage but also are a large contributor to the excessive smog levels.
As of late the smog has been getting quite excessive in Southern California. Many news outlets have highlighted the fact that the air quality is very unhealthy. Later this weekend we will be hitting air qualities in the range of 200-460. AQICN has information and active graphs on this data and considers these levels to be hazardous to health. Anything over 150 can be quite unhealthy for sensitive groups with respiratory issues such as asthma or bronchitis. Therefore, one should take some precautions during this time to ensure your health and safety until things can settle down.
Lowering Your Carbon Footprint
One of the main contributing factors for the smog as of late is the raging wildfires across the state. These fires have destroyed well over 1.4 million acres in active fires this past few months. Thankfully most of the fires are under containment. However, you can also contribute to lower smog levels by not burning plastics, oil, or other noxious materials. Additionally, you can ensure that your cars are all smog checked and are not running inefficiently. This will also ensure you are getting the best MPG on your vehicle. Furthermore, when possible try to walk, bike, carpool, or use public transit to lower carbon footprint and help overall reduce smog. Additionally, when possible using electric tools compared to combustible variants can reduce air pollution and also save you money.
Buy an Air Filter
One simple way to help you breathe easier and ensure that your home is safe and healthy is to buy an air filter. Many home improvements stores and even grocery stores will sell cheap and functional HEPA air filters. HEPA stands for high efficiency particulate absorption. Some of these products can be marketed towards those with pets or animals but should be perfectly fine for cleaning and purifying the air in your home. One thing to keep in mind is the rated coverage of an air purifier. If a person has a large home and puts 1 single air purifier in their living room it will not be sufficient to purify the entire home's air.
Wear a Mask
While everyone is sick of wearing a mask, you should definitely use one during elevated times of poor air quality. Not just any mask will suffice though. You will likely want to get an N95 or higher mask as this will give you more than enough protection by not allowing anything larger than 0.3 microns through. If one has an air purifier in their home, it is not necessary to wear an N95 mask. The whole point of these tips is to help you breathe better after all. Only wear a mask outdoors when the air quality calls for it or when social distancing cannot be maintained.
What Happens if you are having difficulty breathing?
If the air quality is truly getting to you assess whether it is truly an emergency. Generally, if there is any swelling in your throat or feel as though you cannot get enough air you should immediately call 911. However, if there is no immediate danger, consider visiting a medical professional and seeking advice on medication or other solutions for the difficulty in breathing. Another simple solution could be to take a vacation or short break to somewhere with better air quality. Consider visiting a family friend, family member, or just going for a fun vacation until the air quality returns to a safe level.
If you have been affected by the recent fire in Southern California give SERVPRO® of Santa Clarita Valley a call at (661) 296-4600.