How to Prevent a Fire in the Home
9/14/2020 (Permalink)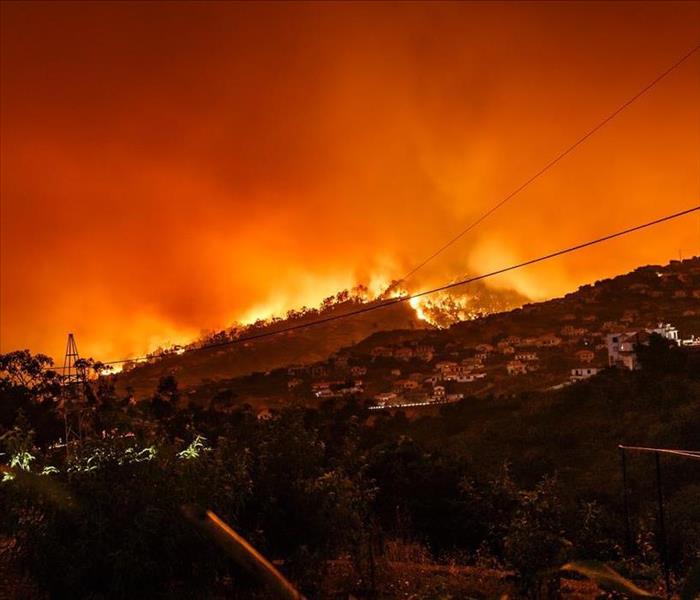 Knowledge of how to prevent or limit the damage of a fire and protect yourself and loved ones is paramount.
With all of the recent wildfires and widespread damage throughout much of California it is important to know how to prevent damage from spreading to your home or a spontaneous fire occurring.
Clear the Home of Combustibles
One of the most straightforward things to do is to keep your home clear of unnecessarily combustible items. For example, one should not stack wood next to the home. This could catch fire or cause further damage if someone is grilling and a burning ember catches it ablaze. Furthermore, your home's bushes, foliage, and trees should be kept trimmed and not allowed to directly touch the home.
Incorporate Flame-Retardant Building Materials
When building a home or moving into one ensure that there are enough fire-retardant safety catches built into the home. An inspector can help you to determine this if that is not your area of expertise. Flame retardant building materials can help slow the spread of a fire and prevent further fire damage until the fire can be contained and extinguished.
Keep an Eye Out for Nearby Fires
Generally, a fire can be contained however if there is a nearby wildfire it is in the best interest of the homeowner to get out of dodge until the fire has been quelled. You can keep an eye on the local news but here is a great tool which gives you a better understanding and knowledge of the state fires. This is the most practical way to prevent fires at the home but also keep you and your loved ones safe.
If you or any loved ones have been affected by wildfires give SERVPRO® of Santa Clarita Valley at (661) 296-4600.