Do Newhall Homes' Contents Benefit from Fire Damage Restoration?
1/14/2022 (Permalink)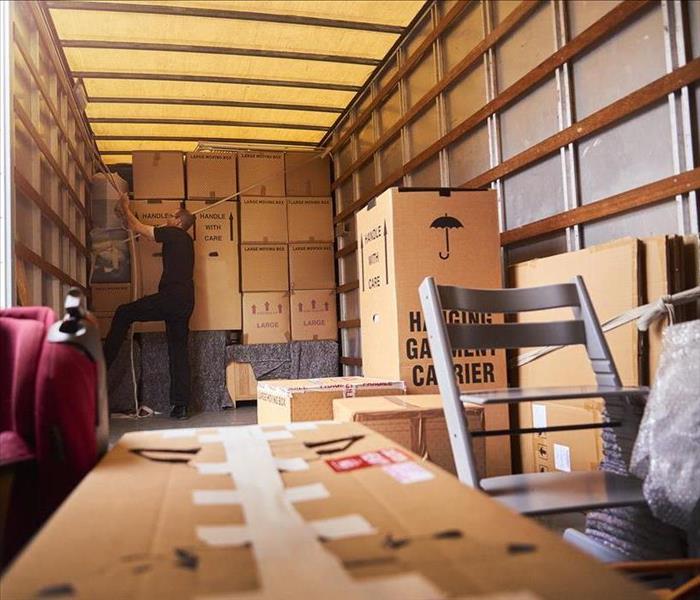 Our SEWRVPRO FSRT techs can relocate fire-damaged content from your Newhall home for precise cleaning at our facility as we restore your house
SERVPRO Fire and Smoke Remediation Includes Newhall Household and Personal Goods
Fire damage restoration for Newhall homes cannot stop at mitigation and remediation of structural components and fixtures alone. The flames, heat, and smoke also affect a dwelling's contents. Your house will not feel like a home until your furnishings, clothing, window and floor coverings, and a host of other fire-damaged articles receive a professional cleaning, drying, disinfection, deodorization, and restoration.
After an assessment, SERVPRO might recommend a pack-out, permitting the phases of fire damage mitigation and remediation to flow more seamlessly:
Removal of wet contents decreases the humidity load during firefighting water cleanup, facilitating faster applied structural drying.
Clearing the space allows SERVPRO's IICRC-certified Fire and Smoke Restoration Technicians (FSRT) to complete soot residue cleaning unimpeded in affected rooms with no need for continuous covering and shifting of contents.
Water and fire-damaged contents need careful evaluation, innovative treatments, and documentation for claims processing by insurance carriers, more easily completed away from the intense mitigation, remediation, and restoration activity within your smoke and fire-damaged residence.
How Does SERVPRO Track Contents Packed-Out During Fire Damage Restoration?
Newhall residents need not experience even more stress during the aftermath of fire damage, so the structure and security offered by SERVPRO's Contents Claim Inventory Service (CCIS) helps at a trying time. Rely on our trained workers to handle your possessions' packing, listing, bar-coding, and digital image memorialization, ensuring the safe and methodical processing of your property at our production facility. After the restoration of contents is complete, our climate-controlled storage areas hold your goods until your home is cleaned, dried, disinfected, and deodorized, ready again to provide a place for your family's treasures.
Specially trained technicians working for SERVPRO of Santa Clarita Valley restore structure and contents after fire damage. Call (661) 296-4600 to explore how we can make it "Like it never even happened," for both real and personal property.