Fire Damage Restoration Can Remove Santa Clarita Ceiling Soot
3/11/2022 (Permalink)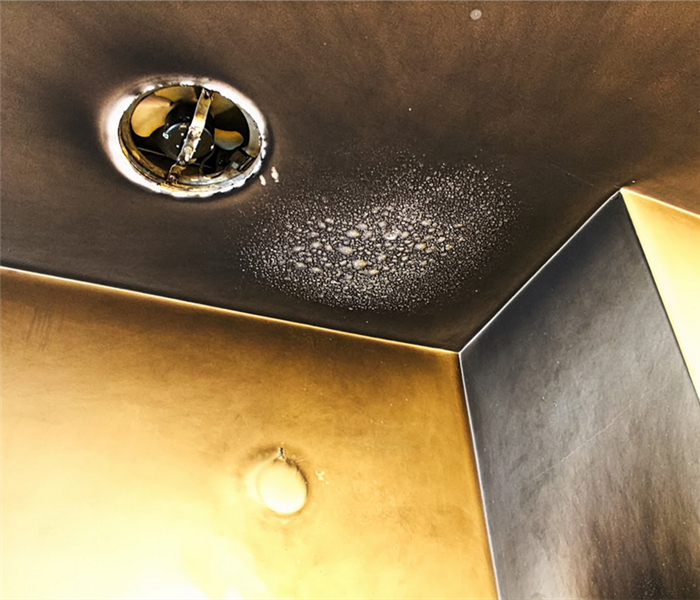 Team SERVPRO specializes in soot removal after a fire. Call our technicians to assess and for fire damage restoration services. We are here 24/7.
Santa Clarita SERVPRO Fire Cleanup Includes Smoke Damage Ceiling Cleaning
Ceilings are among the most impacted surfaces in fire damage due to the nature of smoke. Soot particles quickly rise and stick to surfaces before falling and settling on furnishings and belongings. Ceiling stains can be challenging for Santa Clarita homeowners to remove without professional intervention.
Santa Clarita SERVPRO fire damage restoration professionals perform cleanup with industrial-grade tools. These sophisticated technologies, combined with SERVPRO's firm dedication to training technicians, provide more thorough restoration for homeowners.
Cleaning Soot-Damaged Ceilings After a Fire
Restoration technicians begin by cleaning fire soils from lightest to heaviest and ceiling to floor. Before cleaning the ceiling, technicians can use drop cloths and furniture covers made of plastic to protect contents and minimize disruptions to the home. Techs may temporarily move lampshades or other furniture pieces on the property to prevent accidental secondary damages from soils. After each room is cleaned, contents are replaced in their original positions.
Dry cleaning sponges are the first line of defense against light fire soils. These dry, superficial accumulations respond poorly to wet cleanup, but dry cleaning can successfully remove them without leaving behind stains
Before using manual cleaners, SERVPRO techs vacuum loose soils, soot chains, and other easily removable debris with HEPA-filter vacuums
Dry cleaning sponges are used in short, 3 to four-inch strokes, moving from dirty surfaces to clean ones. SERVPRO techs replace dirty sponges as needed until the desired pre-disaster result is achieved. Dry cleaning sponges are gentle on such surfaces as popcorn ceilings
After cleanup, technicians carefully wipe and vacuum excess soot droppings and dry cleaning sponge residue, even in hard-to-reach nooks and crannies like baseboards or between pieces of furniture.

Homeowners can contact SERVPRO of Santa Clarita Valley for 24/7 "Like it never even happened" services at (661) 296-4600.