Remediating Santa Clarita Business Flood Damage
4/8/2022 (Permalink)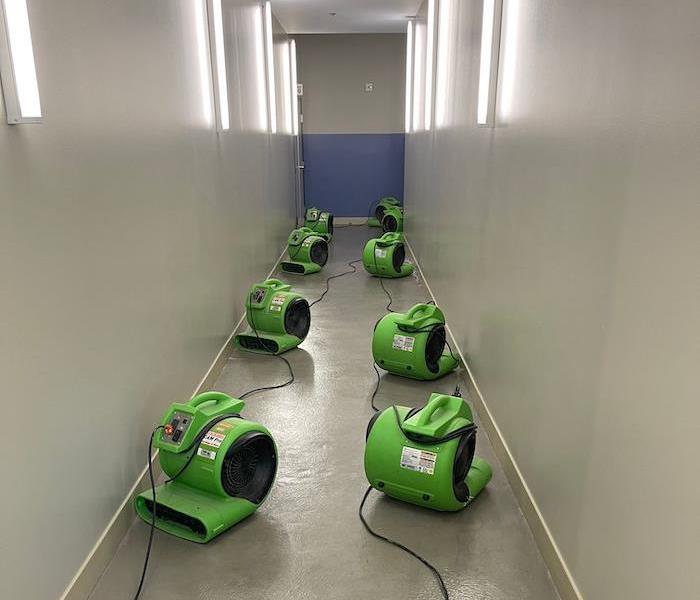 Commercial flood damage is no match for SERVPRO's skilled technicians. Call us at (661) 296-4600. We are always available to assist you.
SERVPRO Flood Remediation Preserves Santa Clarita Facilities After Disaster
Santa Clarita businesses need fast-acting flood damage cleanup to reduce potential asset loss and structural damage that can be performed around the clock. Without timely mitigation, important assets, documents, and equipment are more likely to succumb to water exposure, stains, odors, and potential mold growth, rendering otherwise salvageable items irreparable.
Flood damage mitigation from Santa Clarita SERVPRO technicians is performed to code with restoration industry best practices to help local businesses reopen as quickly and safely as possible. The team's comprehensive flood cleanup process includes inspection and necessary demolition to pack-outs for restorable property and rebuilding services.
How Does SERVPRO Dry Commercial Flooding Quickly?
Structural drying serves a multitude of purposes aside from removing excess moisture from a flooded property, including the following:
Remediating conditions that allow mold growth to begin or continue. Mold requires moisture levels above 50%, adequate temperatures, and organic material for continuing growth. Drying and sanitizing spaces can stop further development and allow technicians to collect and remove spores safely.
Air movers and dehumidifiers coordinate to pull moisture out of walls, floors, and structural components like subflooring and wall joists. Technicians carefully calculate the number of units necessary, as well as their positioning, to help affected spaces reach equilibrium moisture content (EMC), where components are neither gaining nor losing moisture compared to the rest of the property.
Commercial water extraction, when performed in tandem with drying, speeds up the process considerably and reduces potential downtime for businesses impacted by flooding.
We're Faster To Any Size Disaster, and we are available to help local businesses around the clock. Call SERVPRO of Santa Clarita Valley at (661) 296-4600 for emergency-response restoration. Our business will keep you in business.